GREYT ACTORS
The following Movies, TV shows, commericals, cartoons & ads have Greyhounds in them!
Please let us know of any other sightings, who they are and pictures of them if possible.
Photo by Robert Leahey
Postcard Derby Lane, St. Pete's, FL
1955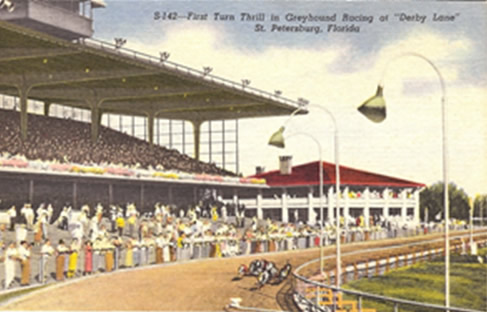 Postcard Volusia KC, Daytona Beach, FL
1955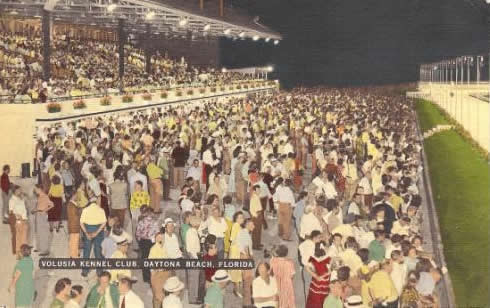 Papyrus Greeting Card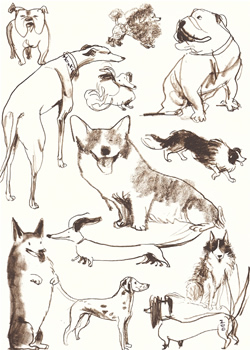 copyright Ann Boyajian
Addison's Cadillac
magazine ad
1967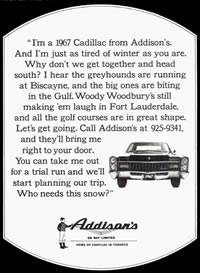 Car commercial (Grey - El-Aur Trey Of Hearts, CDX, FX) 1996
A Man's Gotta Do (Actor - John Howard) - 2004
American Revolution – History Channel
Bayshore
TV commercial
Grey - Buffett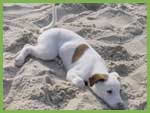 Breakaway Solutions
'Industry Standard' magazine ad
2000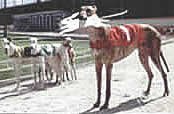 Brittney Spears' Video
Greys Loki & Cinderella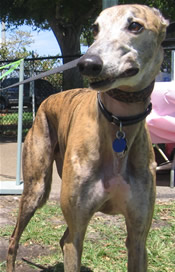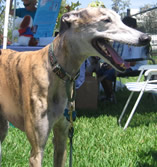 Calendar Girls (Actors - Helen Mirren & Julie Walters) – 2003
Casper The Friendly Ghost (cartoon)
Charlie Wilson's War
Greys - Winnie (aka Ch Golightly Brand New Day CD RA NA NAJ JC)
& Mia (aka CJ Golightly I want To Talk About Me CD RN JC)
Actors - Tom Hanks & Julia Roberts
2007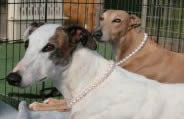 Cheetah (Actors - Keith Coogan & Laura Deakins) – 1989
Children Of Men
Actors - Clive Owen & Michael Caine
2006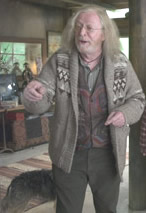 Comcast (fast/high speed - commercial) – 2007
Coronation Street (Grey - Monica aka CH Windspiel Northern Sea Dove)
http://www.showgreyhounds.com/DB/windspiel-northern-sea-dove.htm - 1960-2008...
Coupe De Ville (Actors - Daniel Stern & Patrick Dempsey) – 1990
Cutaway (Actor - Stephen Baldwin) 2000
Dalkeith
Actors - Ray Barrett & Gus Mercurio
2001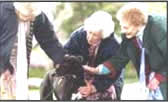 Dark Hazard
Grey - War Cry
Actor - Edward G Robinson
1934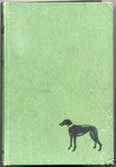 book cover & title page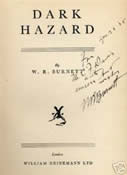 David's Trained Greys & Monkeys
Loretta & Charles
1930s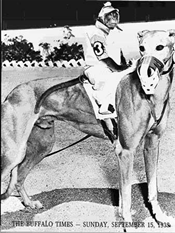 Deserving Design with Vern Yip (Grey - Molly Rainbow Bridge 2008 Paul & Devon DeVigne) June 2008
Dogs with Jobs
Grey - Cinderella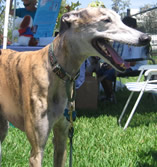 Eastenders - 1985- 2007...
'If Gas Prices Go Higher...'
Email Joke
May 2006'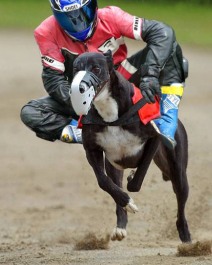 Evelyn (Actors - Pierce Brosnan, Aidan Quinn) 2002
Flawless (Actors - Demi Moore & Michael Caine) – 2008
Ford Greyhound Hood Ornament
1935

Golden Girls (Actors - Bea Arthur, Betty White & Rue
McClanahan) – 1985-1992
Good Will Hunting (Actors - Matt Damon, Robin Williams, Ben Affleck, Minnie Driver) - 1997
Goodys Headache Powder – (commercial)
Greta the Misfit Greyhound – Disney – 1963
Greyhound Bus Lines
Grey - Lady Greyhound aka Steverino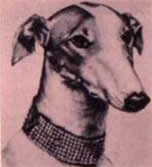 Lady Greyhound - http://www.tvacres.com/dogs_greyhounds_lady.htm Purebred white and gold (light fawn) Greyhound seen on The Steve Allen Show and other TV appearances in the 1950s (with Jack Benny, Art Linkletter, Garry Moore and Ed Murrow, among others). Born January 28, 1957, in Clay Center, Kansas, Lady Greyhound was the living symbol of the Greyhound Bus Line's "running dog mascot" that first appeared as the company's official trademark in 1930 when the Motor Transit Corporation became the Greyhound Corporation. In 1957, the Greyhound Corporation introduced "Lady Greyhound" as its goodwill ambassador during their sponsorship of NBC's The Steve Allen Show on April 7, 1957 (she weighed only ten pounds). The dog earned the nicknamed "Steverino." Lady Greyhound grew to be 58 pounds and for the next decade the black-eyed beauty appeared at numerous civic events nationwide. Bred by Roy Lee of Clay, Center Kansas, Lady Greyhound's parents were Little Shamrock (Dam) and Happy Yet (Sire). Lady, who later gave birth to nine puppies (all adopted by families with children), was registered with the National Coursing Association in Abeline, Kansas. Lady's canine kudos included being crowned Queen of National Dog Week, founding "Be Kind to Dog Owner's Week"; winning a Bachelor's of Animal Letters Degree at Moravian College; introducing a new dance with Xavier Cugat and Abby Lane; inspiring new beach hat styles for the Millinery Institute; winning an American Humane Society Award, and serving as a symbol for World Animal Day. Roy Lee's grandaughter Betty shared with this website owner, there is a street named after her - "Lady Greyhound Street".
Guinness Book of World Records, (1979 edition?) a greyhound record for the fastest mile and a quarter. The dog's name was Ladylike, who was Tim O'Brien's grandmother's dog. Tim's grandmother was Owen Patrick Smith's daughter (In 1921 Smith invented the mechanical lure to greyhound racing to the US).
Hiberian Insurance (Actor - Kevin Dunn) (commercial) – 2003
Hoot
Greys - Loki & Snow
Actors - Luke Wilson, Jimmy Buffet
2006

IKEA (catalog) 2006?
<![if !supportEmptyParas]> <![endif]>
John Adams
Greys - Kulee & ?
Actors - Paul Giamatti & Laura Linney
2008

Jumping For Joy (Actor - Stanley Holloway) - 1956
Kellogg's
commercial
Greys - Cinderella , Emily, Phoebe, Tasha, Monique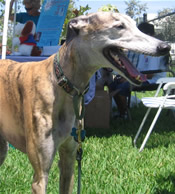 Kingdom Come (Actor - Whoopie Goldberg) – 2001
Kingdom Of Heaven (Actors - Jeremy Irons & Liam Neeson) - 2005
Landy Congnac
2008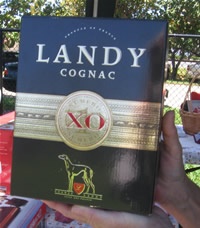 Lord Of The Rings – Return Of The King (Actors - Kate Blanchett & Orlando Bloom) – 2002
Lost and Found (Actors - David Spade & Jon Lovitz) - 1999
Man About Dog
Grey - Cerberus
Actors - Pat Shortt, Allen Leech, Ciaran Nolan 2003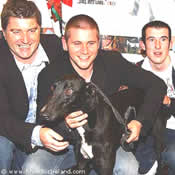 Miami Vice (Actors - Don Johnson & Philip Michael Thomas) – 1984-1989
Moondance (Grey's name - Girlie; Actor - Ian Shaw, Marianne Faithful) – 1995
Moving Up (TLC) - 2007
Mrs Brown You've Got A Lovely Daughter (Actors - Herman's Hermits) – 1968
Net 10 (commercial)
Oceans 11 (Actors - George Clooney, Brad Pitt, Elliott Gould) – 2001
Plunkett and Macleane (Actor - Robert Carlyle, Live Tyler & Jonny Lee Miller) – 1999
Post Card
Actor - Rudolf Valentino with a grey at his feet 1920s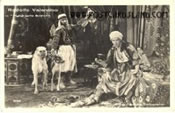 Pride and Prejudice (Actor - Colin Firth) – 1996
Race For Survival - Disney - 1978
Sally Hemmings: An American Scandal  (Grey - Mask; Actors - Sam Neil, Carmen Ejogo) – 2000 http://www.greyhound-data.com/d?i=1297261
Silent Partner (Actors - David Field & Syd Brisbane) 2001
Skeletons In The Closet (Grey - Michele's Egypt; Actors - Treat Williams & Linda Hamilton) 2001
Spanish Mint Stamp
2001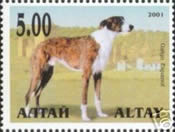 Southwest Airlines Commercial
Steptoe And Son Ride Again
Actor - Wilfred Brambell
1973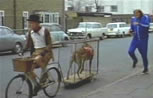 Sunshine State (Actors - Jane Alexander, Timothy Hutton, Mary Steenburgen) - 2002
Supernatural (on T-Shirt of character Sam) -2005
The Castle (Actors - Michael Caton & Anne Tenney) - 1977
The Family Guy (Cartoon - Grey - Sea Breeze) 2008
The Firm (Actors - Tom Cruise & Ed Harris) – 1993
The Gay Dog
Actors - Wilfrid Pickles & Douglas Ives
1954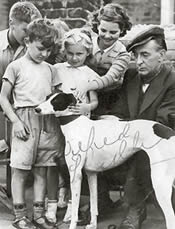 The Getaway (Actors - Kim Bassinger & Alex Baldwin) - 1994
The Grey Hounded Hare – Merrie Melodies/Warner Bros (cartoon) (Actor - Buggs Bunny) - 1949
The Honeymooners (Actor - Cedric The Entertainer) – 2005
The Mighty Celt
Grey - Sally
Actors - Robert Carlyle, Gillian Anderson & Tyrone McKenna
2005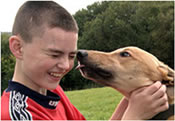 The New World (Grey - Snow; Actors - Collin Farrell, Christopher Plumber) - 2006
The Outcast (Actors - Leslie Fuller & Mary Glynne) - 1934
The Reaping (Actor - Hillary Swank) 2007
The Simpsons – Two Dozen & Two Greyhounds – 1995
Un Crime (Greys - Myron & Fred; Actor - Harvey Keitel) - 2006
Celebrity Look-a-Like:
David Brenner
"Moose"
Breed: Greyhound
Owner: Tammy, CA


Celebrity Look-a-Like:
Helen Mirren
"Tia"
Breed: Greyhound
Owner: Diane Tothero, PA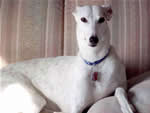 Album covers & Songs:
Days Like This
Album cover
1995
Van Morrison & girlfriend Michelle Rocca

Three Men From Carntyne
(Traditional Irish Folk Song/ Iain C. MacKintosh / Tony Harris) Tune: One Man Went To Mow
Three men frae (from) Carntyne went to join the parish (apply for unemployment support)
Three men frae Carntyne went to join the parish

Three men frae Carntyne and a bottle of wine
Went to join the parish

Three men frae Carntyne and a bottle of wine and five Woodbine (cheap cigarettes)
Went to join the parish

Three men frae Carntyne and a bottle of wine and five Woodbine
And a big black Greyhound dog named Bob
Went to join the parish

Three men frae Carntyne and a bottle of wine and five Woodbine
And a big black Greyhound dog named Bob (from near by) frae up oor close
Went to join the parish

Three men frae Carntyne and a bottle of wine and five Woodbine
And a big black Greyhound dog named Bob frae up oor close
And (little Agnes) wee Agnes (who works at the dairy) oot the dairy who's been (hurting since the) skelly since the Milanda boy
Hit her on the heid (head with a breadboard) wi' a breidboard
Went to join the parish

Three men frae Carntyne and a bottle of wine and five Woodbine
And a big black Greyhound dog named Bob frae up oor close
And wee Agnes oot the dairy who's been skelly since the Milanda boy
Hit her on the heid wi' a breidboard and went (out and didn't shut the door) oot an' didnae shut the door
And forgot to apologize
Went to join the parish

And it was shut (closed)!
I Love My Dogs

Album cover

2004

Stan R Young

Gonna take a ride across the coast

With my two friends they are the most

We'll drive for hours in my green van

When we get there we'll start again

My two boys are covered with hair I take them both most everywhere because you know they are just slobs, that's ok they are my dogs

I love my dogs and I hope you do too but it really doesn't matter cause it's not up to you I love my dogs

When I got home from our joyous ride my wife stood there with a gun by her side she wasn't happy she called me a slob but it's ok I love my dogs
Born Slippy
Album cover
1996
Underworld
(Title was the name of "a greyhound we won money on" Karl Hyde)
Greyhound - 'Born Slippy's' page:


Arms: — Arg. three greyhounds current, in pale, Sable.
Crest: — A greyhound, current, Sable, seizing a hare, Proper.
Walsh of Ormathwaite, 1804. — Sir John Benn Walsh, who, in 1794, took the name of Walsh by the King's sign manual, pursuant to the will of his wife's uncle, is descended from the Benns of Moor-row, in Cumberland, and son of William Benn, Esq. who married the grand-daughter of the late Dr. William Brownrig, of Ormathwaite, near Keswick. Sir John Benn Walsh is the present proprietor of Ormathwaite, but does not reside in Cumberland.

Arms: — Or, a fesse between three greyhounds, current, Sable.
Crest: — On a mount Vert, a stag current, Proper, hoofed and attired, Or,
Pattenson of Melmerby. — The ancestor of the Reverend Thomas Pattenson, now of Melmerby-hall (being of a Westmorland family) settled at this place about a century ago, in consequence of his marriage with the heiress of Threlkeld.

Arms: — Arg. three greyhounds current in pale, Gules, collared, Or.
Wybergh of St. Bees. — William Wybergh of this place married the heiress of Engayne of Clifton in Westmorland in the reign of Edward III. In the visitation of 1665, the family were described as of Clifton and St. Bees. Thomas Wybergh, Esq., the representative of this ancient family resides at present at. Brayton in Cumberland as guardian of his son Wilfred, as yet under age, who inherits the Lawson estates, under the will of the late Sir Wilfred Lawson Baronet, whose name he has taken.
Joseph Turner's painting "Dawn After The Wreck 1841"